At some point this year, we turned a corner.  Without any warning or fanfare, we found ourselves rested enough, organized enough, with enough time, and with our home and our finances in enough order to allow us to commit more than the most minimal effort to trying to do something good.  It comes naturally to some at a younger age, and I truly admire those people.  I have found that I am a one-thing-at a-time type who needs to have their own ducks in a row before signing on for an ongoing commitment.  Better late than never, I hope.   We found the first volunteer experience that suited our combined abilities in an email circulated around Bjorn's office.  The option that jumped out at us was the opportunity to prepare a dinner for 8 in our own kitchen at home and deliver it to an emergency safe house for homeless youth, ages 16-21 in our neighbourhood operated by Lutheran Social Services.  The guidelines are minimal.  Arrive at 7.  Bring a main dish (no pork) and a few sides; no mysterious looking casseroles, please.  Including a gallon of 2% milk and a bottle of juice is suggested.  Dessert is appreciated but not required.  We signed up for a few dates to give it a try.  I had to ask right away about accommodating special diets:  vegetarian, vegan, gluten-free, kosher, etc.  We were told they didn't currently have anyone with those needs.  We still tried to come up with enough variety and flexibility in the menu so that a person who doesn't eat meat, or a person who doesn't tolerate gluten could still eat a decent plate of food.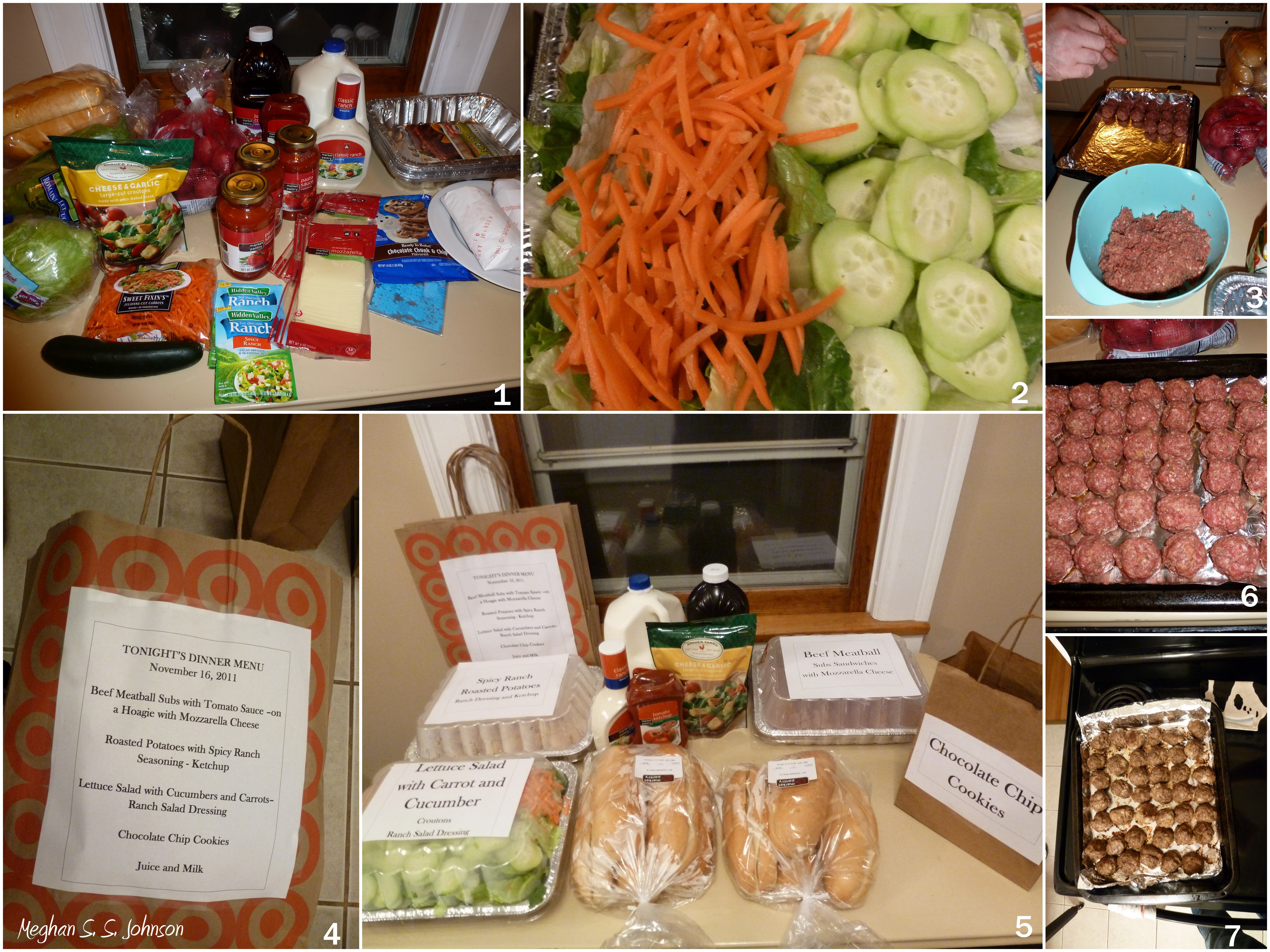 1.  This is the array of groceries and supplies we used for the first meal we prepared.  We spent about $40 on groceries at Target.  At my request, Lunds Grocery Store donated 3 disposable aluminum containers with lids for delivering the food.  We didn't shop for this meal at Lunds, but we do almost all of our grocery shopping there.
2.  We packed a salad of iceberg and romaine lettuce with sliced cucumbers and julienned carrots.  We bought a package of parmesan croutons and a bottle of Ranch Dressing for the salad.
3.  This fall, Bjorn's parents stocked our freezer with a generous supply of ground beef, steaks and a few roasts from cows raised on the family farm by Bjorn's Uncle Stan.  I cannot begin to emphasize how wonderful it is to have a supply of beef raised by a farmer we know and trust.  We absolutely love to cook with this beef.
4.  I taped the typed-out dinner menu on paper grocery bags we used to deliver the food.  Our first meal consisted of Beef Meatballs in Spaghetti Sauce to be served on Hoagie Buns with Provolone Cheese, Roasted Potatoes seasoned with Hidden Valley Ranch Southwest Seasoning and ketchup, A Salad of Iceberg and Romaine Lettuce, Carrots and Cukes, Juice, Milk and Chocolate Chip Cookies.
5.  I tried to think like a caterer when I packed up the meal.  Disposable containers aren't ideal for food presentation visually, but I think when food is packed neatly, containers are spatter-free and the contents and serving suggestions thoughtfully labeled, it helps a lot.  If this is the best meal or the only meal some of these kids are eating today, I want it to be a great meal.
6.  Bjorn's meatballs, ready to bake.
7.  Bjorn's meatballs out of the oven.  They smelled good.
We prepared and delivered our second meal on November 29.  This time when we arrived, we were offered a tour of the house.  It was fun and rewarding to see the safe house and some of the people who will eat our meal.  The house is large and very clean.  We enter through the backyard and after being cleared as "friendly visitors" on the security camera, we enter into the kitchen.  After setting up the meal on the large counter, we were led through the dining room which has a large dining table and shelves stacked with board games.  The next room is a is a livingroom with a huge, flat screen TV.  Upstairs was warm.  There were brightly lit bedrooms  that were already full of people having a boisterous conversation. The safe house has the atmosphere you would hope:  positive, clean, safe and welcoming.  We were told that the house is filled to capacity every night.  The staff also told us that they appreciate having a meal delivered because they don't have to cook or go out and buy anything.  It saves the program money too, obviously.  Judging by our ease in finding workable dates, they are not at capacity for volunteers.  They report having a meal provided 4-5 nights a week.  They expressed relief that we did not prepare a Thanksgiving meal.  Apparently, they had quite a few of those in the past month and were getting a little tired of Turkey and Stuffing.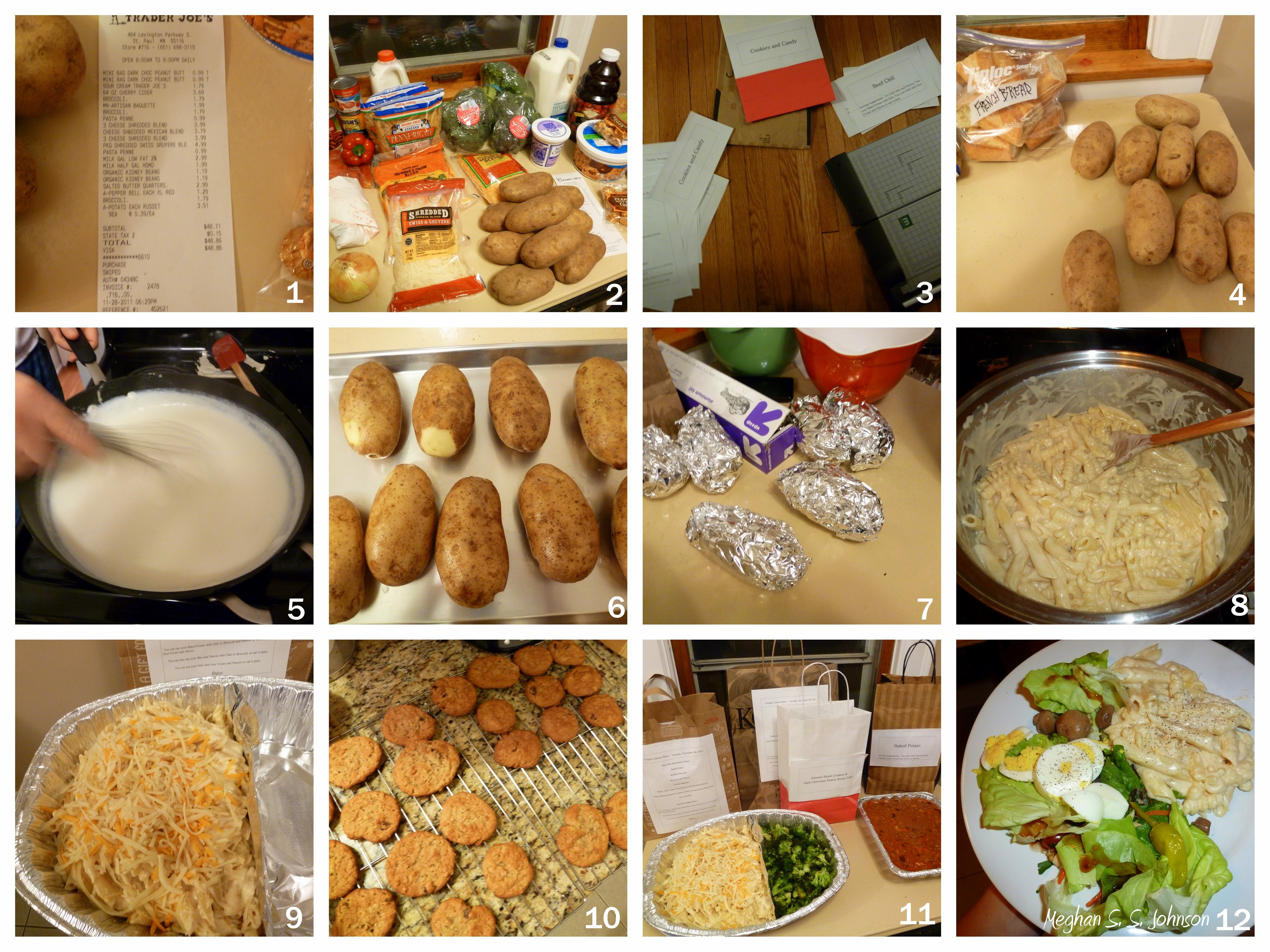 We hope our second meal was tasty and satisfying.  Here goes nothing:
1.  We shopped for most of the ingredients for meal number 2 at Trader Joe's.  Again, we spent around $40.  This wasn't planned, apparently, it is the price-point of the hearty meals we conceive of for 8.  The cost would be higher if we had to purchase meat.
2.  These are the ingredients to prepare tonight's meal of Baked Potatoes, Sour Cream, Chili, Mac & Cheese, Roasted Broccoli, Baguette and Butter.
3.  I thought the well-labeled meal looked good the first time we delivered it, so I printed a menu and labels with serving suggestions for the second meal as well.  This time when we walked in the door with our labeled bags and containers we got a "wow!" from one of the staff.  I'm taking that as feedback to indicate that we're doing okay.
4.  We thought Baked Potatoes would be a hearty side, so we scrubbed some russets to bake in the oven.  I love russets for baking because their peels gets meaty,chewy and crunchy, and their interior stays fluffy and light.   I like to oil the peels and salt them lightly with Kosher salt.
5.  When we have Macaroni and Cheese ourselves, which we do often, it is usually Kraft Dinner.  We decided to bump the Mac & Cheese up a few notches and followed Martha Stewart's recipe for Perfect Macaroni and Cheese.  Here, Bjorn is stirring a roux that will become the cheese sauce.
6.  We baked the potatoes wrapped in foil which worked well for keeping them warm for delivery in a small paper bag.
7.  We stirred the cheese sauce into Al Dente pasta, it looked like it was creamy and delicious.
9.  Disposable food containers were easy to come by for this meal on the cheap at Walgreens because it was just after Thanksgiving.  We had to fashion a make-shift divider out of aluminum foil to separate the Macaroni and Cheese from the Roasted Broccoli.
10.  My parents gave us a container of frozen Oatmeal Raisin cookie dough, so we made cookies again this week.  My parents also purchase the milk and juice that we bring for each meal.
11.  Tonight's meal is packed, labeled and ready to go.
12.  This week, we had the sense to save ourselves a serving a macaroni and cheese.  We had it with a salad topped with hard-boiled eggs.  Home made macaroni & cheese is so yummy.  We have set "we'd prepare it for guests in our home" as the standard for the meals we prepare for the safe house, and so far, I think we've been consistently able to pull it off.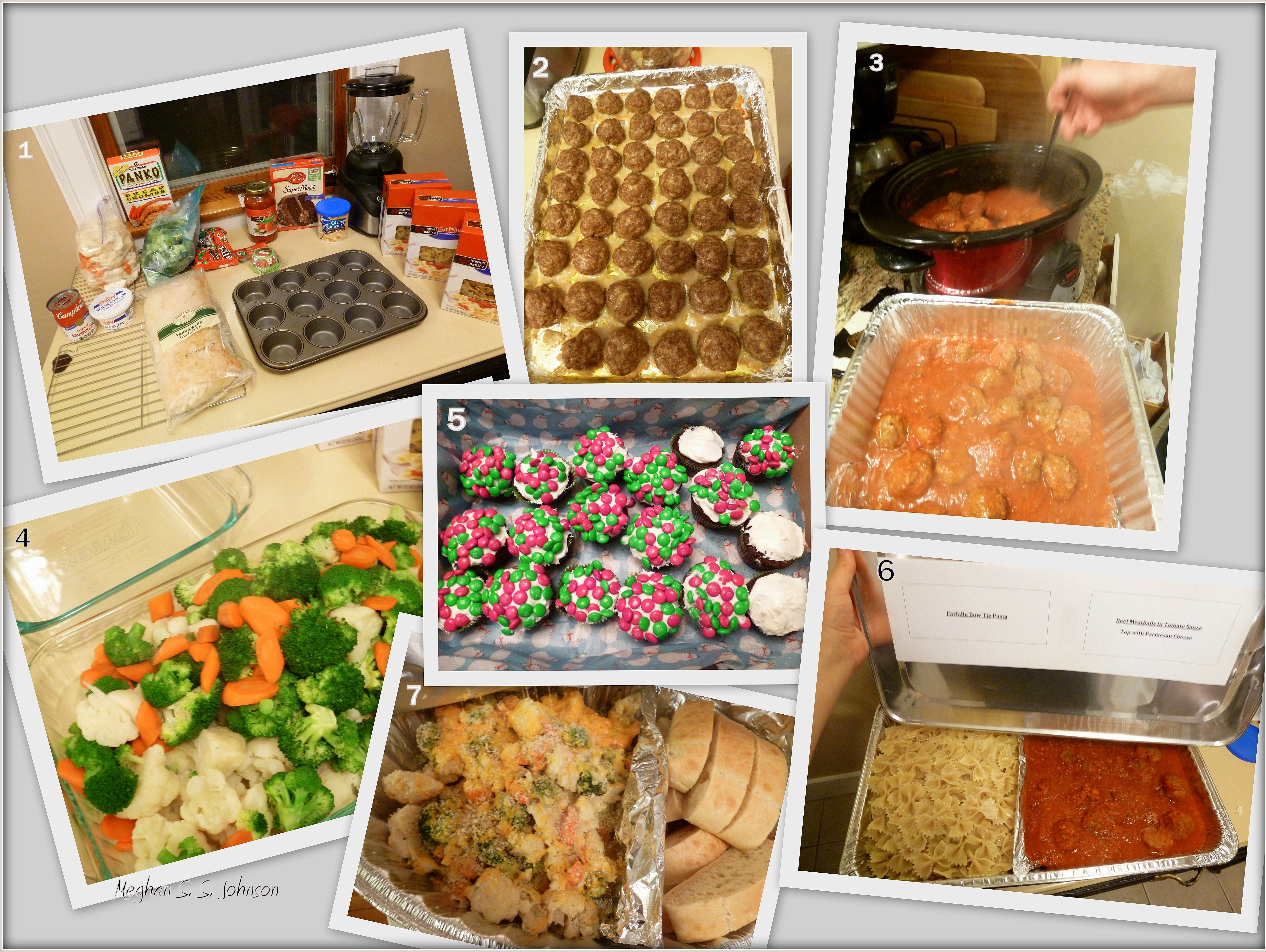 Meal Number 3, December 21, 2011.
1.  For our third meal we had most of the ingredients and supplies on hand.  What we didn't have, we bought at Target.
2.  Bjorn made beef meatballs again.  It helps make a substantial meal and keep our costs at a reasonable level when we use our beef.  Bjorn has perfected his meatball recipe.  He seasons the meat with Trader Joe's 21 Seasoning Salut and mixes in Egg, Breadcrumbs and grated parmesan, and as I said, they smell great when he bakes them.
3.  Meatballs are also convenient because  they can be baked a day ahead.  After baking the meatballs, Bjorn put them into the crock pot with spaghetti sauce.  I take the crock of meatballs out of the fridge and turn it on when I got home from work the night that we deliver the food.
4.  We cut up and steamed carrots, broccoli and cauliflower and made a creamy-cheesy sauce with grated cheese, sour cream and mushroom soup, a little pepper and a crunchy panko bread crumb topping.  It is creamy and delicious, but really, quite light.  After my Mom made the same dish at Christmas with frozen vegetables, I think I would go that route in the future.  It was just as tasty, it was probably cheaper and was definitely less work.
5.  For dessert I made chocolate cupcakes with cream cheese frosting and Christmas M&M's.  They were yummy.
6.  Again, we made a make-shift divider in the aluminum container between the cheesy vegetables and slices of ciabatta bread.
7.  We boiled farfalle pasta to go along with the meatballs this week.  I made a last-minute call to Kowalski's on Grand Avenue in Saint Paul to see if they would be willing to donate some disposable containers for us to deliver the meal in this week.  I barely had to finish my sentence explaining what we were doing and what we needed before the manager agreed to set out several nice, durable aluminum containers for me to pick up.  Those really aren't cheap, so it helps us a lot.  It has been amazing to discover how generous store managers in our neighbourhood are when we just ask.
Not pictured with this meal are the Christmas cards that we brought along with our meal this week for the kids and the staff, each containing a $5 Subway gift card that we bought and a free 6 inch sub donated by the owners of Subway on Grand and Fairview Avenues and Selby Avenue and Victoria Street in Saint Paul.  This was another example of how people are ready to help and be generous when all we do is ask.  We thought our first 3 meals were a success, so we signed up to prepare and deliver 2 more in January.  We are enjoying the new experience of giving a little time, and at the same time getting to be creative and engaged in a favorite hobby:  cooking!