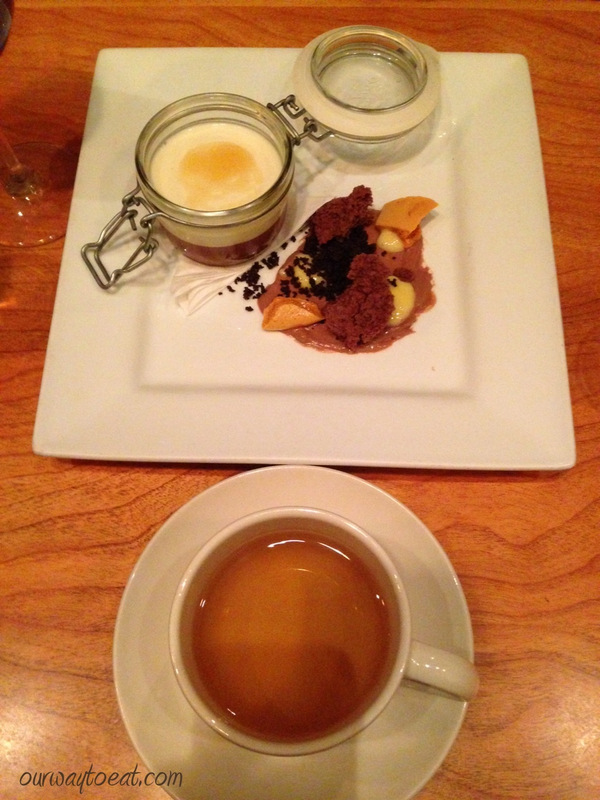 (612) 379-4909 528 University Ave SE Minneapolis, MN 55414 www.restaurantalma.com
♦
There wasn't a lot of forethought before our 9 p.m. decision to go to Restaurant Alma for dinner the other night.  We've never been there, and it was on the list of places to try.  A quick call while en route from Saint Paul confirmed that there was no wait for a table for two.  This was not surprising at 9 p.m. on the first bone-shocking -12 degree night of the winter.  Restaurant Alma deserves anticipation, but this is how dining out decisions tend to go for us:  it had gotten late, we were hungry, interested in the place and there was a table available, so why not?
♦
Alma is a nicer restaurant, but I found it immediately comfortable because of its unpretentious atmosphere.  Not being "on the list" was not a problem, and our server was down-to-earth, friendly and attentive.  We came in from the blustery cold night into the warm, open room and were immediately seated. Our server greeted us, and we told her that we had not been there before.  She gave us a helpful overview of the restaurant's approach.  The menu changes seasonally and ingredients are locally sourced to the extent possible.  The restaurant offers a three course tasting menu, with both meat and vegetarian options.  Alma embraces the tasting menu concept because it allows the small kitchen to operate efficiently, and lets you try a number of dishes and dine at a relaxing pace.   Eating three courses sounds like feast, but the portions are sized correctly to allow you to enjoy the variety without feeling over-fed.
Even though the restaurant was nearly full, service hummed along at a calm, pleasant pace.  At the server's recommendation, we both started with the Celery Root Flan – warm julienned celery root salad topped with caviar, served side-by-side with a silver dollar-sized truffle-oil brushed toasted brioche with a small, round flan. The flan and celery root salad were pleasantly bitter as would be expected with celery root, the garnish –itty-bitty chopped chives subtly balanced it.  The challenge of this course was getting the celery root and caviar part of the dish into your mouth, I had some success when I piled the salad on top of the tiny piece of toast.  The flavor and texture combination of smooth flan, salty bursts caviar and crunchy toast was unexpected and tasty.
For the second course, I ordered the Salsify & Poblano Cream Soup.  The ingredients arrived in the bottom of my bowl – poblano, salsify and some nutty sautéed mushrooms.  Mushrooms replace the chorizo in the meat-eaters version of the soup which is also on the menu.  Salsify is a root vegetable that looks like a pale, dirty carrot.  When cooked, it has the texture of a carrot as well.  I found it innocuous– its lack of popularity is probably due to the fact that it has little detectable flavor.  The server poured the light, creamy soup base over the vegetables from a small pitcher.  Again, there were minuscule chives which provided a faint, but pleasant oniony-ness, that along with the flavorful mushrooms and poblano, balanced out the creamy base of the luxurious soup.  When the server came to check on us, I told her the soup was "lovely" a word which I used to excess by the end of the meal.  
For Bjorn's second course, he ordered Carolina Grits served with pork broth, shrimp, shiitake mushrooms and garnished with scallions and fresh grated horseradish.  He loved this dish. Taking the southern classic of shrimp and grits infusing Asian elements of pork broth and shiitake made the dish interesting and new.  The horseradish provided heat that was noticeable without being overpowering.  Bjorn described the dish as "excellent, a mouthful of flavors."
For Bjorn's main course he ordered the duck which came two ways:  confit and pan roasted.  The duck was served with roasted parsnips, oyster mushrooms and "cumin mojo."  He reports that it was awesome.  To the untrained, vegetarian eye, the duck looked tender and perfectly cooked.  
In a rare moment of boldness I broke with my habit to order the pasta as my main course, and instead tried the Squash "Migas".  I should do that more often.  The Migas were a heap of bread and tortilla crumbs with small pieces of squash made into a hash piled atopt charred chili puree and garnished with fresh cheese, and topped with a soft poached egg.  I enjoyed the dish– it was spicy, flavorful breakfast food.  I found the chili puree to be a bit on the salty side, but I have a salt-sensitive palate, so it may have been fine for others.  The fresh cheese was mild, with a flavor and texture similar to queso fresco.  I loved the poached egg- it tasted amazingly fresh.  I wish I could find where they buy these wonderful eggs and learn to poach them perfectly– keeping the white tender and intact and finishing the yolk to creamy-perfect doneness as it was on my Migas.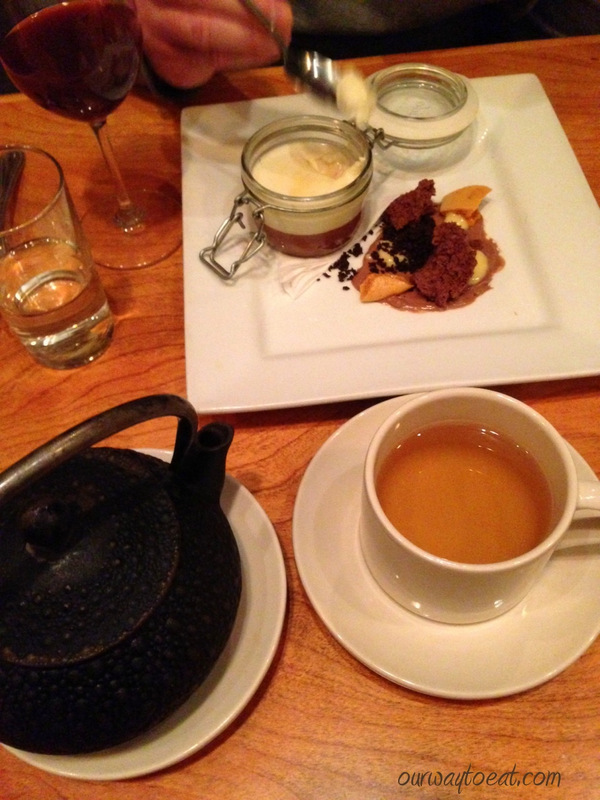 Throughout the meal, neighbouring tables ordered desserts that looked intriguing, but I usually don't have dessert unless it is going to be extremely special, so I ordered a small pot of chamomile mint tea.  Bjorn ordered port and a desert, a Honey Chocolate Pot du Creme with honeycomb candy, grated chocolate, chocolate angel food cake and honey sabayon.  Fortunately, he was willing to share.  The dessert was phenomenal and probably my favorite part of the meal.  All of the textures and flavors were luxurious, but not overly rich, and mildly sweet.  Following a bite of creamy chocolatey honey goodness with a sip of port, the nutty, vanilla flavor of the port came alive and left us warm and sleepy.  A perfect ending to a LOVELY meal.
♦
I would recommend Restaurant Alma, and will certainly go back.  It it a perfect place for an intimate, relaxing meal for a small group, especially a mixed group of vegetarian-omnivore eaters.  I loved the fact that the vegetarian menu followed the regular menu closely.  Thoughtful substitutions of mushroom for chorizo in the soup, and squash for lamb in the Migas meant that I could sample the most interesting dishes on the menu.  Some nice restaurants make the vegetarian menu feel like a special cause, and many others don't have vegetarian offerings at all.  I like having intentionally meat-free dishes to choose from, but at the same time I'd rather eat close to what everyone else gets to eat.  The classic elements of the dishes we sampled at Restaurant Alma were adeptly executed, and the dishes as a whole were infused with thoughtful and imaginative international flavor elements, making for a special and memorable dining experience, late on a cold winter's night.