You might think a person's natural "Salad Season" would occur in the summer.  Since I started photo-documenting the food we eat, I have discovered our true salad season occurs in the deep winter.  We certainly don't have a dazzling array of garden and local produce available, but even so, we do our best to choose the best produce and canned goods available to get by.  This is probably the season when we need hearty salads the most here in the Midwest.  Our bodies are hiding in bundles of clothing, we spend our time mostly indoors and in natural darkness, and we inevitably encounter a number of virus threats on a weekly basis.  I consider these light, bright, crunchy, energizing, nutrient rich, colorful salads, [along with sleep] to be one of the secrets to a maintaining a pretty reliable immune system.  They are also my January-February hope that when spring arrives, I will feel and look more springy than a person feels in the depths of winter.  
Our first salad, shaved carrot, Parmesan,  radish, white bean and raw sunflower seeds on romaine.
I start preparing our salads by adding its prominent components to a bowl.  Chop something crunchy (celery), add a protein (kidney beans), add any other vegetables you have on hand and wish to include (here, cukes and halved grape tomatoes) , toss with greens, (here, romaine and spinach).  If you care to, add a flavor/texture  "treat" such as seeds, nuts, avocado, egg or a bit of cheese.   This is the way to make a great winter a great salad.
I typically toss greens with either some citrus juice, lime, lemon, orange or grapefruit or a flavored vinegar.  My favorite vinegars are red wine, balsamic or tarragon vinegar.  Then I drizzle just a few drops of olive oil and toss the greens.  It is surprising how little oil you need to bring all of the flavors together.  Sometimes I add a tablespoon or two of Dijon mustard, or a teaspoon of honey or jam to the oil and vinegar/citrus mixture before mixing vigorously to add further flavor and help the dressing to emulsify before tossing the liquids with the greens.   Chopped fresh herbs or dried herbs along with salt and pepper added according to taste complete the dressing.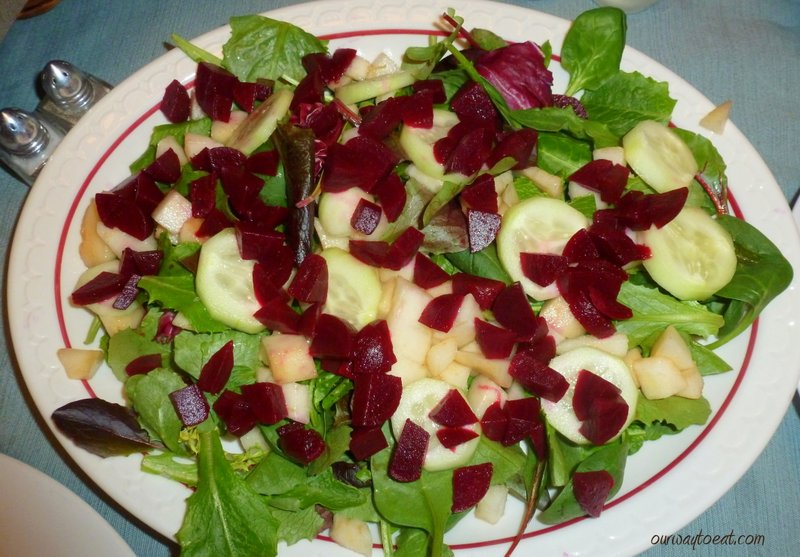 This salad is composed of beets, peeled bosc pear and sliced cucumber on mixed greens dressed with leftover grapefruit juice and fresh thyme dressing and a little pepper and salt.  Don't hesitate to open a can of beans, beets or citrus canned (hopefully BPA free) in its natural juice.  There are many health benefits and few sacrifices when you add these nutrient-rich ingredients the easy way.  
The next salad is composed of sliced radish, sliced pear, white beans and a few slices of brie on spinach with citrus-preserve dressing. 
Another great salad is composed of corn, black beans, peeled and quartered cukes, minced scallion, halved grape tomatoes and pepitas dressed with lime juice, olive oil, honey and chili flakes over romaine.  
In my book, this winter salad is special, grapefruit supremes, sliced avocado and red beets on mixed greens with grapefruit juice and olive oil dressing with thyme leaves. 
Here is another hearty and satisfying salad we've enjoyed composed of shaved carrot, celery, chickpeas, sliced radish and provolone on romaine-spinach mix.
Salads in winter are limited by the produce in season, but those limitations can open up room for creativity.  Salads like these complete a meal as a healthy side dish or stand as a meal on their own.  Certainly, they brighten your plate and the winter— try 'em.