It has been bitterly cold and snowy in Minnesota.  I am at once craving variety and comforting, old-school Midwestern staples.  These individual Nacho "Pot Pies" are comforting, easy to make for meat eaters and vegetarians, and are also a tasty departure from everyday chicken pot pies.  I kept the calorie count under control using fat-free Greek yogurt in the creamy pot pie filling instead of cream or half n' half, and topped them with a small serving of multigrain chips instead of a buttery crust.  We thought the texture and flavor were perfect.  When served, each person can add nacho toppings as judiciously as they desire.  These mini-casseroles aren't as "fancy" as Day After Thanksgiving Individual Pot Pies with or without turkey, but they are a guaranteed happy meal for a dreary winter week night or a main course at a Superbowl Party.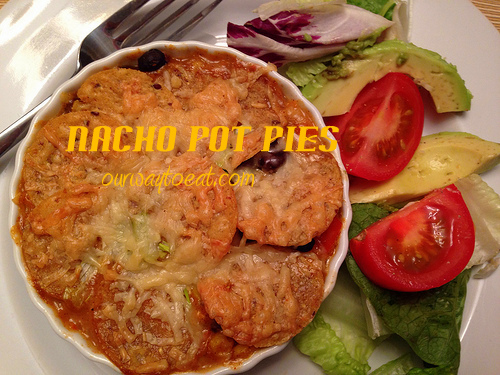 Nacho Pot Pies, yield 4 Individual Pies, easily doubled
Ingredients:
1 clove of garlic, minced
1/2 a Red Pepper, chopped
1 Jalapeno Pepper, seeds removed and minced—add an extra pepper for more heat.
1/2 an Onion, chopped
1-14 ounce can of Black Beans, rinsed
3/4 cup of frozen Corn, thawed
1.5 Tablespoons of Taco Seasoning I use Home-Made Taco Seasoning following the Girl Who Ate Everything's recipe.
2 Tablespoons All Purpose Flour
1 Cup Vegetable or Chicken Stock
1/2 Cup Fat Free Greek Yogurt
2 Scallions, white parts and just the beginning of the green, diced fine
Tortilla Chips–I used multigrain
Shredded cheddar or Monterey Jack cheese to top each Pot Pie
Olive Oil
Optional:  cooked chicken, cut into bite-sized chunks, 1/3 cup per dish
Method:  Preheat oven to 375 degrees.  Coat individual 5-inch baking dishes, or a small casserole dish or glass pie plate with cooking spray or oil.
Sauté onions in olive oil until translucent, add chopped red pepper and cook 2 minutes.  Add garlic and jalapeno, cook one minute until fragrant.  Sprinkle taco seasoning and flour, blend together and cook 1 minute.  Add stock and bring to a boil, then simmer 2-3 minutes until slightly thickened.  Stir in Greek yogurt, most of the black beans and corn.
Add chicken, or a few extra spoonfuls of baked beans into each dish.  Divide filling between individual baking dishes.
Top with tortilla chips, scallions and shredded cheese.  Bake at 375 degrees, 18-22 minutes until golden.
Serve with traditional nacho/taco accompaniments:  shredded lettuce, diced tomatoes, sliced olives, sour cream, sliced avocado, lime wedges and salsa.  These are Nacho Grandma's Pot Pies.