This is the second in a short series of posts about a few restaurant experiences we've had around the Twin Cities in recent months.  
Cat Man Do – 1659 Grand Avenue, Saint Paul, MN Telephone:  (651)528-7575
I read about Cat Man Do a few months ago on a local food 
blog
 that I like to visit and knew it was a place we should try.  Cat Man Do is a cozy restaurant in our neighborhood that offers authentically prepared Nepali food.  Its menu is filled with interesting choices for vegetarians and omnivores alike.  We have now eaten there twice, and we enjoyed both meals.  After our first visit, I woke up the next day craving another Samosa, a savory pouch stuffed with potatoes and peas, served with a spicy-sweet sauce (not pictured) and considered going to the lunch buffet solely for the purpose of having another one.  On our first visit, I tried the Chow Chow noodles with vegetables with medium spice.  The noodles were pleasantly spicy, but I wouldn't be shy about ordering them hot in the future.  Bjorn tried Mo Mo, a steamed dumpling, shaped into a little coin purse stuffed with seasoned meat.  On our second visit, Bjorn ordered Chow Chow with chicken, and I ordered M.A.P.P. curry with mushroom, asparagus, potato and peas which had a wonderful balance of warming seasonings.  On both occasions the dining room was nearly full, about half of the diners were college age and half were couples in their twenties through middle age.  This is both a fair representation of the neighbourhood's residential composition and a testament to the tasty, enjoyable and interesting menu choices, and the reasonable price point at Cat Man Do.  Cat Man Do has earned a regular spot on our Saint Paul dining rotation.  We enjoy the satisfying, well-seasoned dishes at Cat Man Do.  Cat Man Do offers different flavors and preparations than the food we make at home, with results that are no less homey, craveable, and comforting.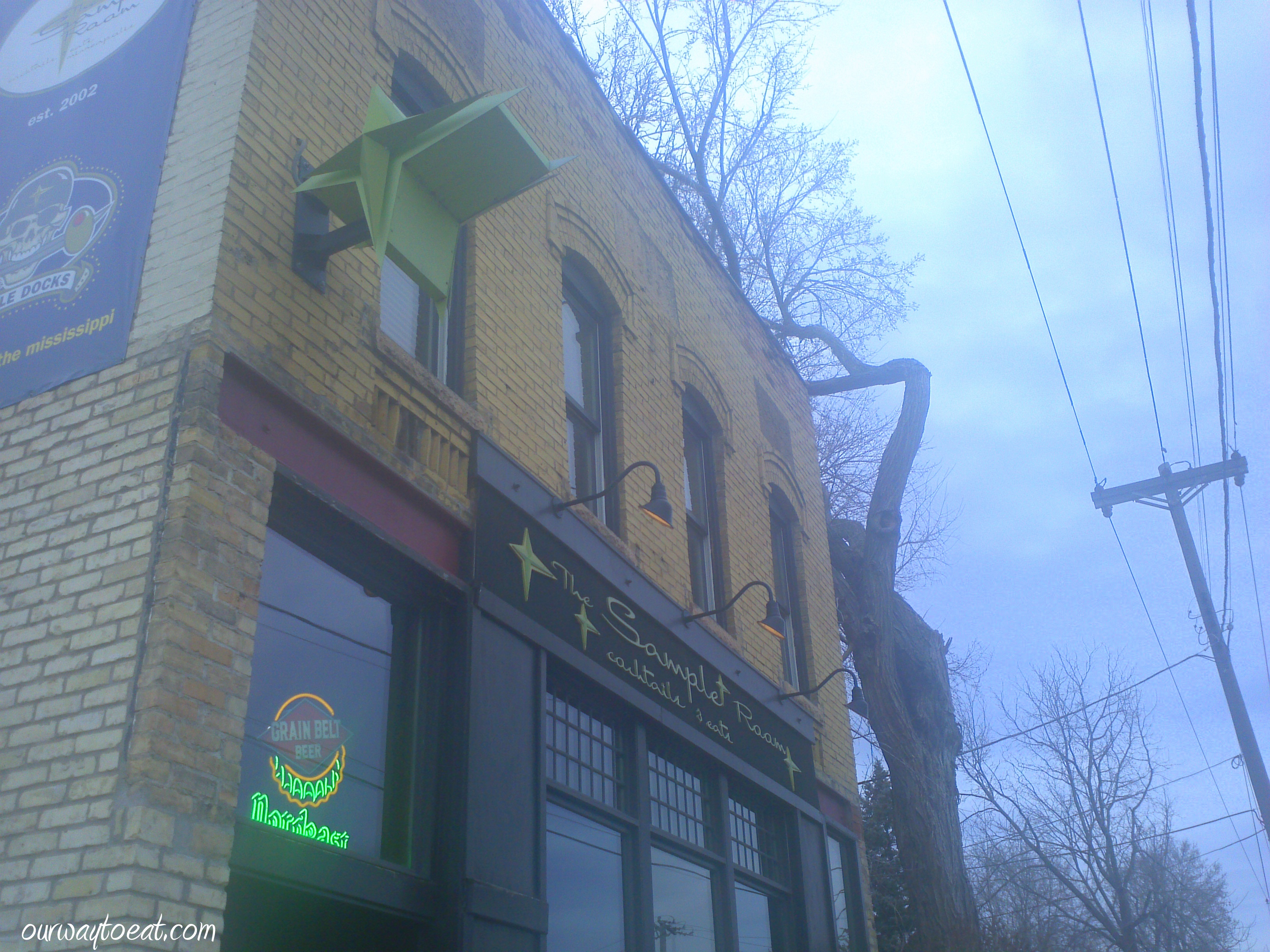 The Sample Room
– 2124 Marshall Street NE, Minneapolis, Minnesota 
Telephone:
 (612)-789-0333
One rainy Sunday we went out for a drive in North East Minneapolis.  We had no particular destination in mind, but we knew dinner would be involved.  There are many solid options that we've enjoyed in visits to this neighbourhood,
Psycho Suzi's
,
The Modern Cafe
,
Northeast Social
,
Mill City Cafe
,
The Red Stag
, and
The Bulldog Northeast
are all reliably good.  On this particular evening, we ended up at the Sample Room.  We've driven by many times on our way to listen to music at 331 Club, and finally managed to stop in for a meal.
I started by ordering a flight of wine.  When it arrived I stopped taking pictures.  Oops.  The aptly named Sample Room offers small plates of cheese, charcuterie, pasta, salads, meat, seafood and vegetables and a variety of interesting condiments, made in-house.  We started by sharing a house salad of mixed greens, aged ricotta, red onion, radish and pepitas with a red wine vinaigrette and a "Pickled Plate" which included pickled egg, an assortment of pickled veggies and mustard.  For my "main" I had the fresh fettuccine with wild mushrooms and kale in a sauce of chive crème fraîche, butter and white wine garnished with shaved parmesan and cracked black pepper.  I 
liked 
the fettuccine, but I didn't 
love
it.  I am pretty spoiled these days when it comes to fresh pasta.  Between living down the street from
Scusi
where you can get a killer fresh pappardelle any night of the week,
the wonderful bowl of egg fettuccine with green garlic and grape tomatoes I recently enjoyed at Broder's Cucina Italiana
, and the pretty darned good pastas I've been rolling out at home, I have a high bar for fresh pasta.  Maybe I'm being too hard on the noodles, the real issue I had with the pasta was the kale.  I'm afraid to admit this for fear of losing all of my vegetarian cred, but I'm not sure that I'm sold on kale.  Admittedly, I haven't made much of an effort to fall for this frilly, dark, cabbage-like green.  The kale on my fettuccine makes a good example of why I have a hard time jumping on the kale bandwagon — it had a mineraly-metallic taste that almost reminds me of meat.  The difficult flavor and texture of kale overpowers whatever feel-good vibes eating this super-nutritious green gives me.  In further damage to my vegetarian rep, I feel the same about collards.  I'll stick to spinach, thank you very much.  I can't blame the Sample Room for my personal views on the vegetable in a dish I opted to order, unless they sautéed the kale in a cast iron or aluminum pan which would be the cause of the pervading iron / B Vitamin flavor in the dish.  Bjorn had crab cakes and the Bison-Pork-Beef Three Meatloaf with smoked tomato ketchup, which was recently named the "
Best Meatloaf in the Twin Cities 2012
" by the Citypages.  Bjorn liked the meatloaf and as wonderful as it probably is, I cannot believe the Best Meatloaf in the Twin Cities isn't made by somebody's mother!  My mother's meatloaf would surely be a contender if she made it in the Twin Cities and I hereby give it an unofficial nomination for Best of the Twin Cities 2013.  What is more, I cannot believe "Best of" rankings include meatloaf!  It seems like we're going a little far with that, but I wouldn't have been shocked if "best bike rack" made the list, so I guess meatloaf deserves its place.  The Sample Room gives you the opportunity to
sample
a variety of their local charcuterie, house-made pickled things, unique condiments and interestingly prepared meats and seafood offerings without committing to a massive portion or price.  It is another solid spot to add to the list of reasons that that Northeast Minneapolis is one of our best 'hoods.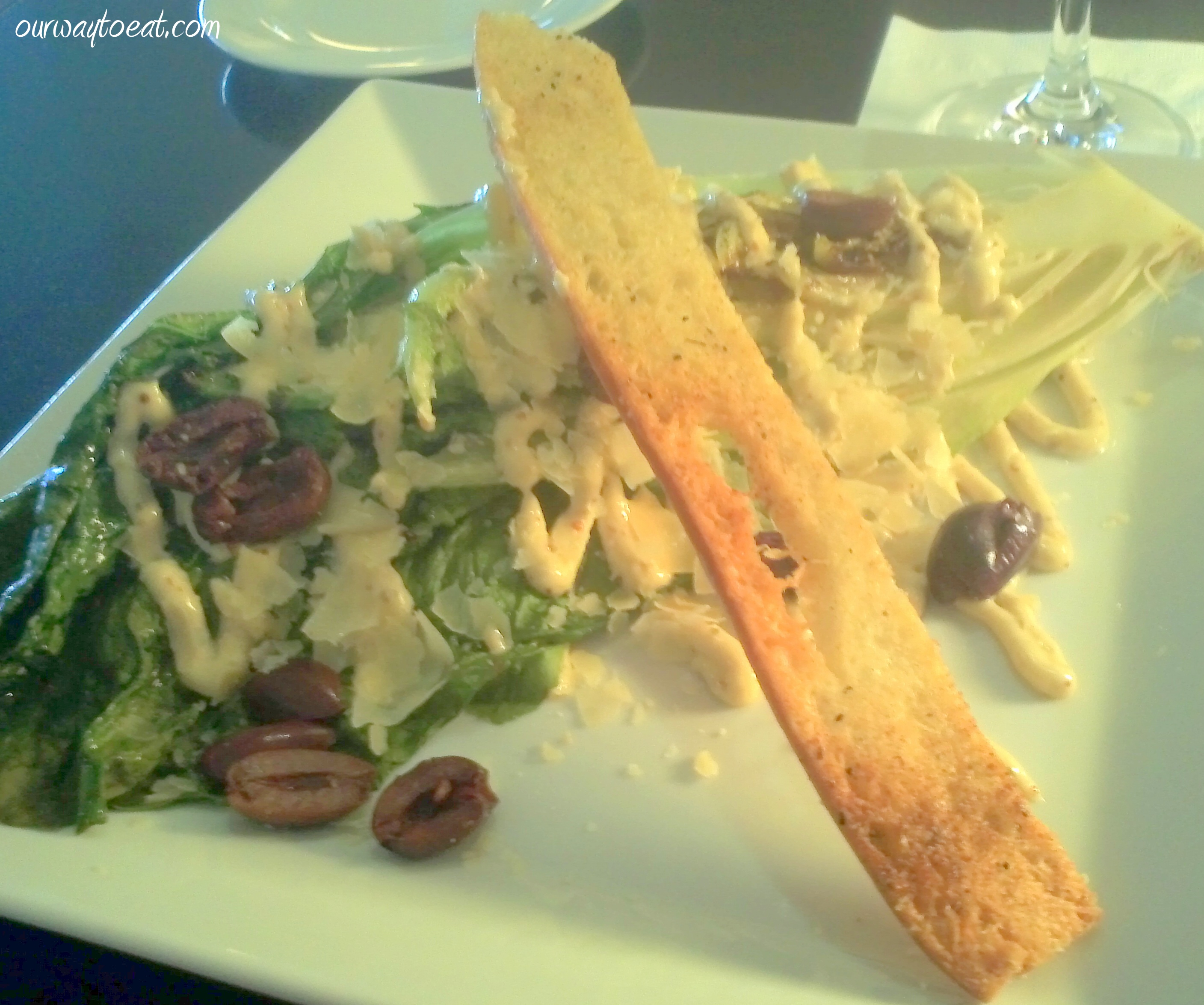 Next on our Twin Cities tour is a lunch I had last week by myself at Basil's, a slick restaurant 
circa 
yesteryear in the Marquette Hotel in Minneapolis, overlooking the Crystal Court in the IDS Center.  For out-of-towners, the IDS Center is the tallest building in Minnesota, and provides office space to scores of law firms, stockbrokers, venture capital firms and consultants of every ilk.  I chose Basil's blindly, wanting to eat a salad in a calm place where I could write at noon on a Wednesday.  I found my way to Basil's on the third floor taking the elevator in the hotel lobby and requested a table for one.  The host honestly seemed a little freaked about my request and spent several minutes nervously scrolling through his computer screen, uttering "uhhhh."  I didn't know how long this would continue so I interrupted to ask if the restaurant was booked with reservations.  He finally took the cue and showed me one of many open two-seater booths, which was in fact, kind of perfect for one person.  I chose to sit with my back to the kitchen door, instead of facing it where he had directed me.  There were a few more "uuuhs" and he told me to sit on whichever side I felt 
comfortable
 sitting.  I got the feeling he was maybe a bit 
uncomfortable
 with me having lunch by myself.  I waited quite a while before my presence was noted by a server.  By now,
my
discomfort was mounting.  I looked around the room and realized that the only escape was the elevator bank past the host stand, so there was no turning back on lunch without even more awkwardness.  When my waitress arrived, she was warm, experienced and didn't seem at all bothered to serve a table of one.  I quickly ordered and enjoyed a few stolen moments of quiet to do my own thing.  Soon my Grilled Caesar salad arrived.  It was no more or less exciting than I expected, but it was totally good, and I immediately felt better about lunch.
I have noticed that nicer Italian restaurants are now grilling a head of romaine lettuce, and serving it whole in a deconstructed Caesar salad, rather than chopped or torn, with all elements combined.  Nowadays, said Caesar salad is probably going to arrive with either a whole anchovy, perhaps some chopped kalamata olives or some crunchy, lacy, toasted Parmesan cheese and an artistic crouton somewhere on the plate.  Maybe grilled romaine is standard everywhere else, but, it is my position that it is a newer offering in Minnesota.   I surmise that serving the lettuce grilled and the salad deconstructed challenges diners and adds enough interesting possibilities for presentation and accoutrements to allow the chef to keep the ubiquitous Caesar salad on the menu without feeling like they've given up on their dreams.  Basil's and the grilled Caesar are both trying to be fresh.  The grilled salad did so more convincingly than the aging power-lunch spot — an out-of-step microcosm in the surreal universe of the IDS Center — where silver-haired suits hesitantly broker the passage of a torch forged of intensely-burned midnight-oil during long absences from home in the western 'burbs to smartly be-spectacled nouveau-yuppies in short trousers and argyle socks poised to board a bicycle bound for South Minne at 5:01 p.m.  Me?  I just wandered here looking for a salad and to seize a minute to write in the middle of a downtown workday.