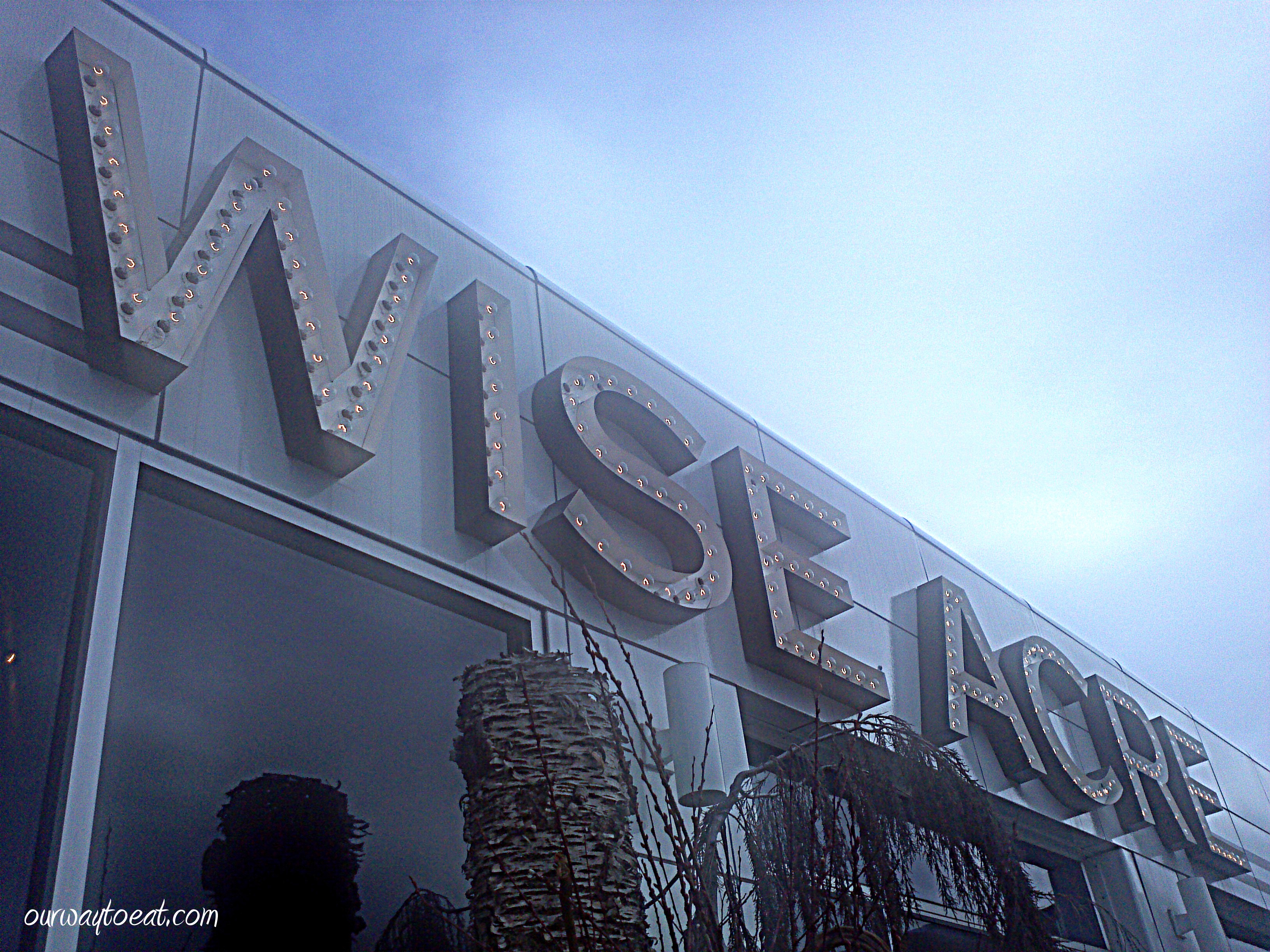 Two weeks ago, late on Saturday morning we went to the Minneapolis Institute of Art to see the Sports Show, a collection of sports-related photographs, television and movie clips related to sports in society, both a pastime and a spectacle.  To be honest, I wasn't sure I'd be into the show, but I'll go see any kind of art.  It turned out to be fascinating.  Stanley Kubrick, Andy Warhol and Frank Lloyd Wright took sports photographs — who knew?  
After a few hours of art, we thought we deserved lunch.  It was a beautiful sunny day, so we wound around city streets in South Minneapolis with no particular destination in mind.  We drove down Nicollet Avenue, passed on Corner Table and Blackbird and when we reached 35W we turned around.  When we were about to give up on South Minne and head toward more familiar territory, we drove past a shining, silver auto mechanic's shop with a brightly lit sign that said Wise Acre.  I commented on the name, not knowing for sure that it was even a restaurant, but Bjorn was familiar with it and heard it was good, so we decided to give it a try.  
From the moment we approached the door, I was glad we happened upon Wise Acre.  Wise Acre is located right next door to Tangletown Gardens, a fancy garden center with a yard that is bursting with creatively arranged garden goods, potted twig, branch, leaf and pine arrangements, statuary, flower pots and bird baths.  It just so happens that the two businesses are under the same ownership.  This means that Wise Acre is abundantly decorated with art and unique potted arrangements, both inside and out.  I was completely agog at the creative decor.  The restaurant was packed, so we opted to sit at the bar, which is made of dark lacquered wood.  There were potted arrangements of moss, birch bark, faux succulent plants, twigs and pinecones on the bar and on every table.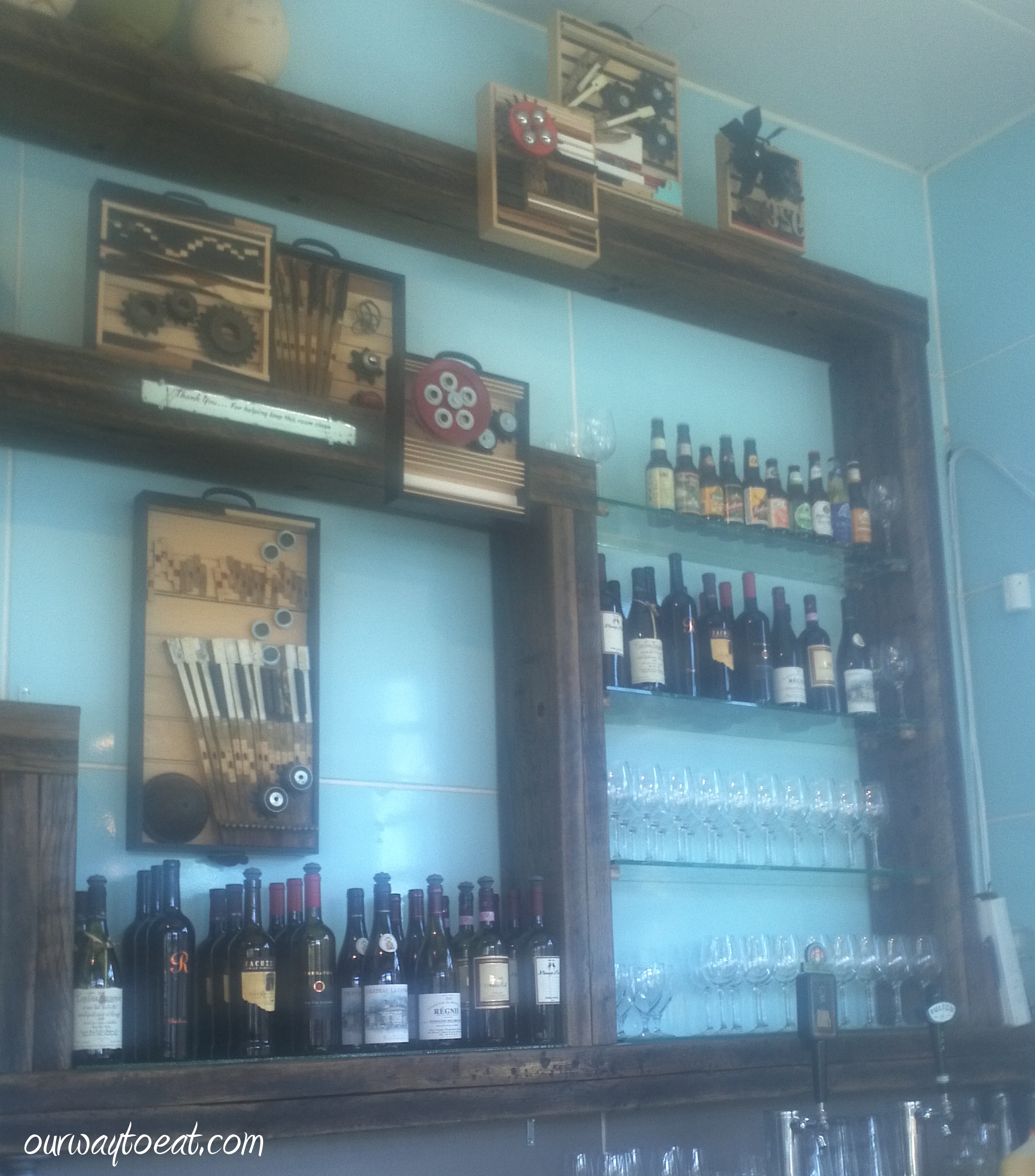 Behind the bar, heavy shelves made of dark-stained, weathered wood and thick glass held wine bottles, glasses and wooden framed geometric ephemera collages.  I am gathering ideas for shelves to hold pots and pans in our kitchen, and I was intrigued by this idea, and inspired by the cool collages.  In the main part of the restaurant, hanging high along the walls were fabric bags with all types of leafy plants and moss growing out of them, right up to the ceiling.  Mechanic's work lights — single light bulbs attached to wooden handles and protected by a wire cage were suspended from the ceiling by long chords of various lengths, to provide lighting throughout the restaurant and above the bar.
I sat gawking at every detail of the decor and the waitress had to come back twice before I remembered that I was there to eat.  Wise Acre observes a farm-to-table philosophy in every sense.  Beef, Pork, Poultry, Eggs and vegetables raised at Tanglewood Farms, a 100 acre farm located in Plato, Minnesota are served at the restaurant.  Their motto, "the shortest distance between the earth, the hand and the mouth" rings true.  On the weekend, only brunch and dinner are served.  I was tempted by the chowder of the week when I spied a bowl containing hearty chunks of carrot and potato, served with bread.  It contained ham, so I opted for the Egg and White Cheddar sandwich on a Brioche Bun and a mixed green salad.  I had already eaten eggs for breakfast, but when brunch is the only option, and it is 2 p.m, an egg sandwich sounded better than pancakes.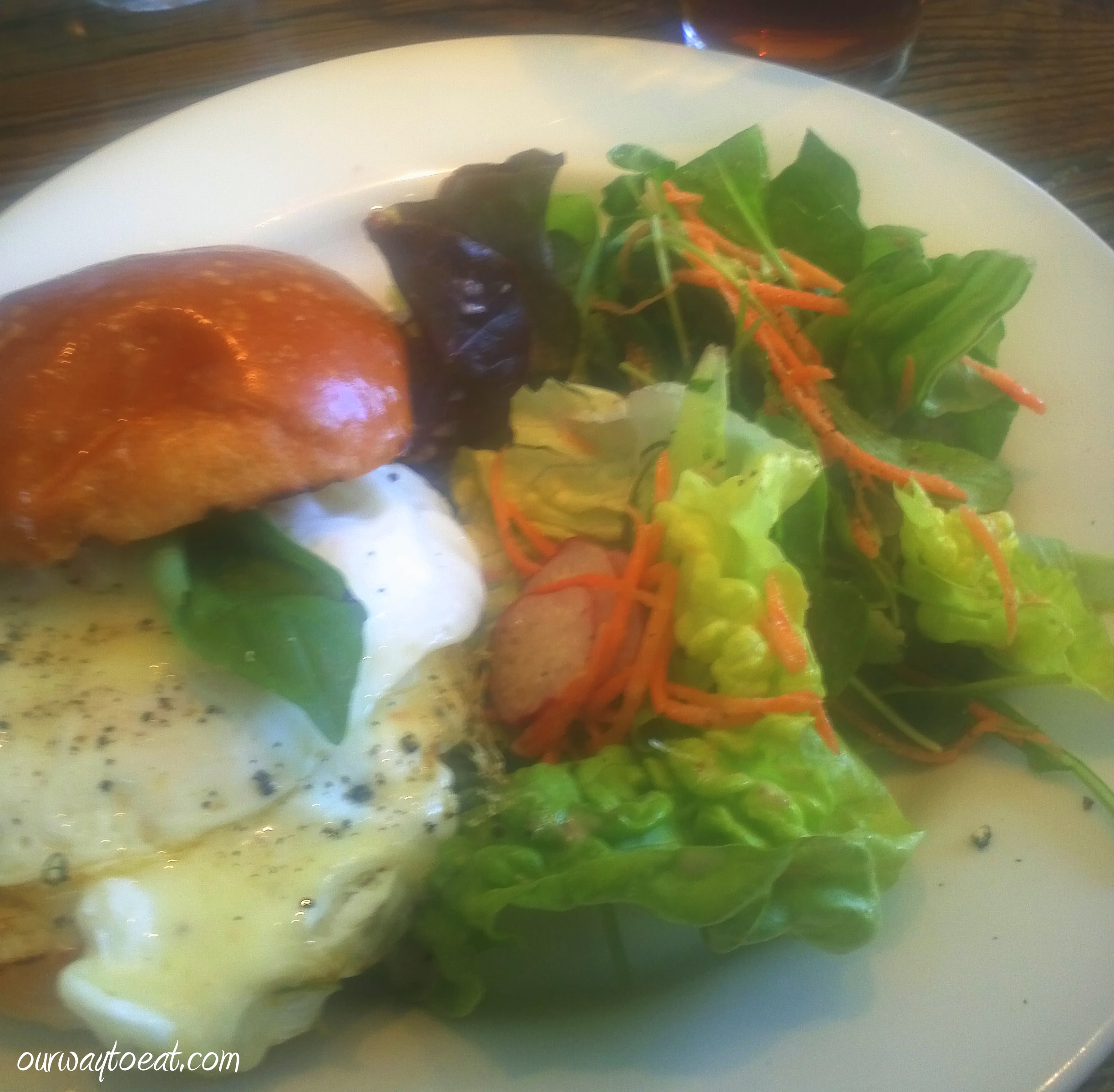 My sandwich came with ham, and I asked for it on the side so that Bjorn could eat it.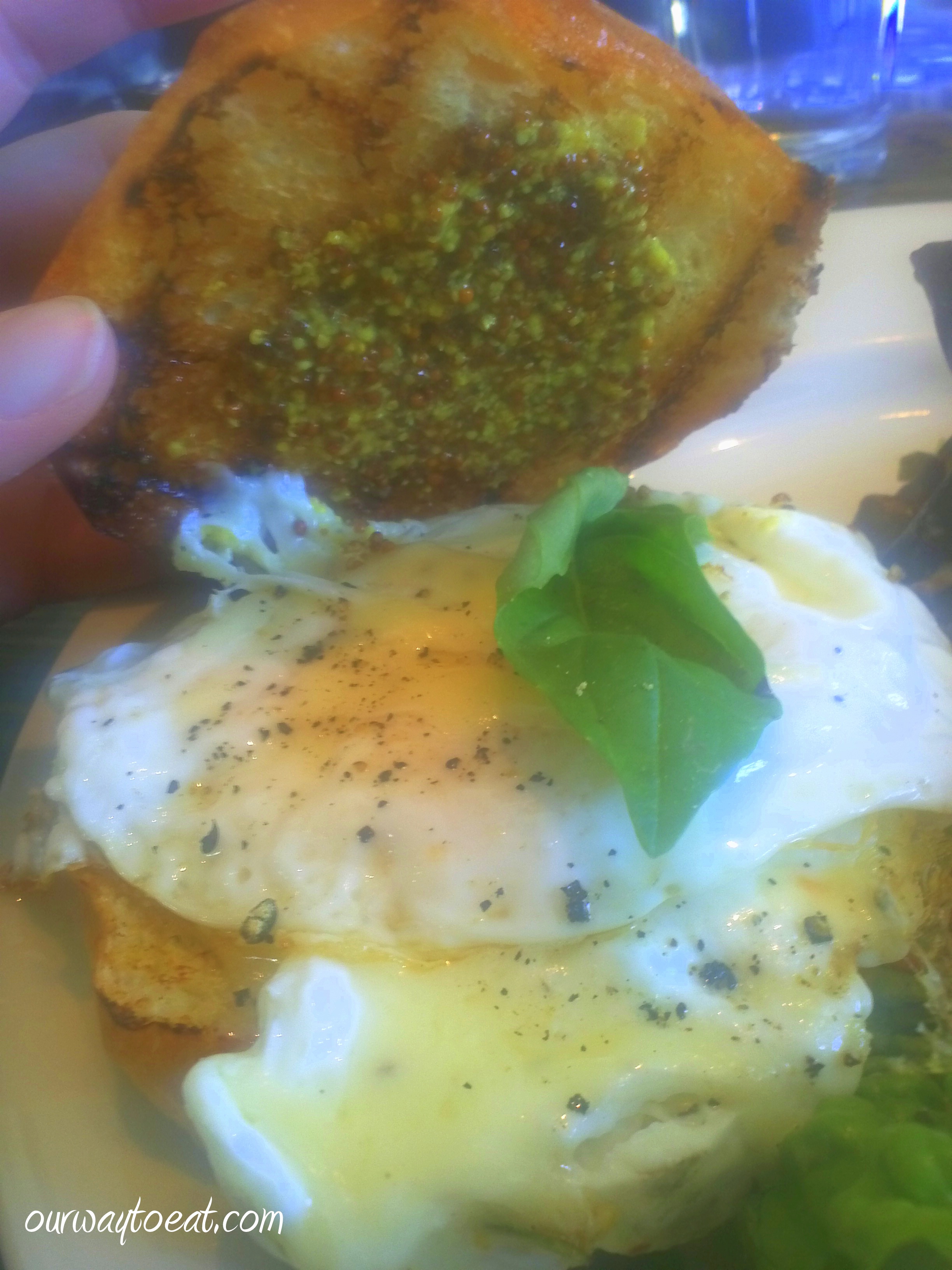 The sandwich came with a Dijon Mustard spread on the delicious, grilled Brioche bun.  The mustard was punchy, but makes sense on the sandwich, since the sandwich usually contains ham.  It had kick, and I liked it.  The sandwich was very good.  It was great to have the eggs I had for breakfast to contrast with the Wise Acre eggs.  Hands down, the egg on the sandwich was more fresh and of better quality than the eggs we had at home.  We need to start buying better eggs again!  Friends and family with chickens, take note, we're in the market for fresh eggs!
Bjorn ordered the grass-fed beef burger with bacon and brie which was served with hand cut fries, a small jar containing pickley cole slaw and little glass of apple chutney.  Bjorn said the burger was good.  It sure looks amazing.  I think the little jar used to serve cole slaw is the cutest thing I had ever seen.  I will be using this idea for serving salads at our backyard BBQ's this summer for sure.  I tasted a french fry and noticed how remarkably un-greasy they were.  The apple chutney was an interesting condiment.  It is not the new ketchup, but it was fun for a change.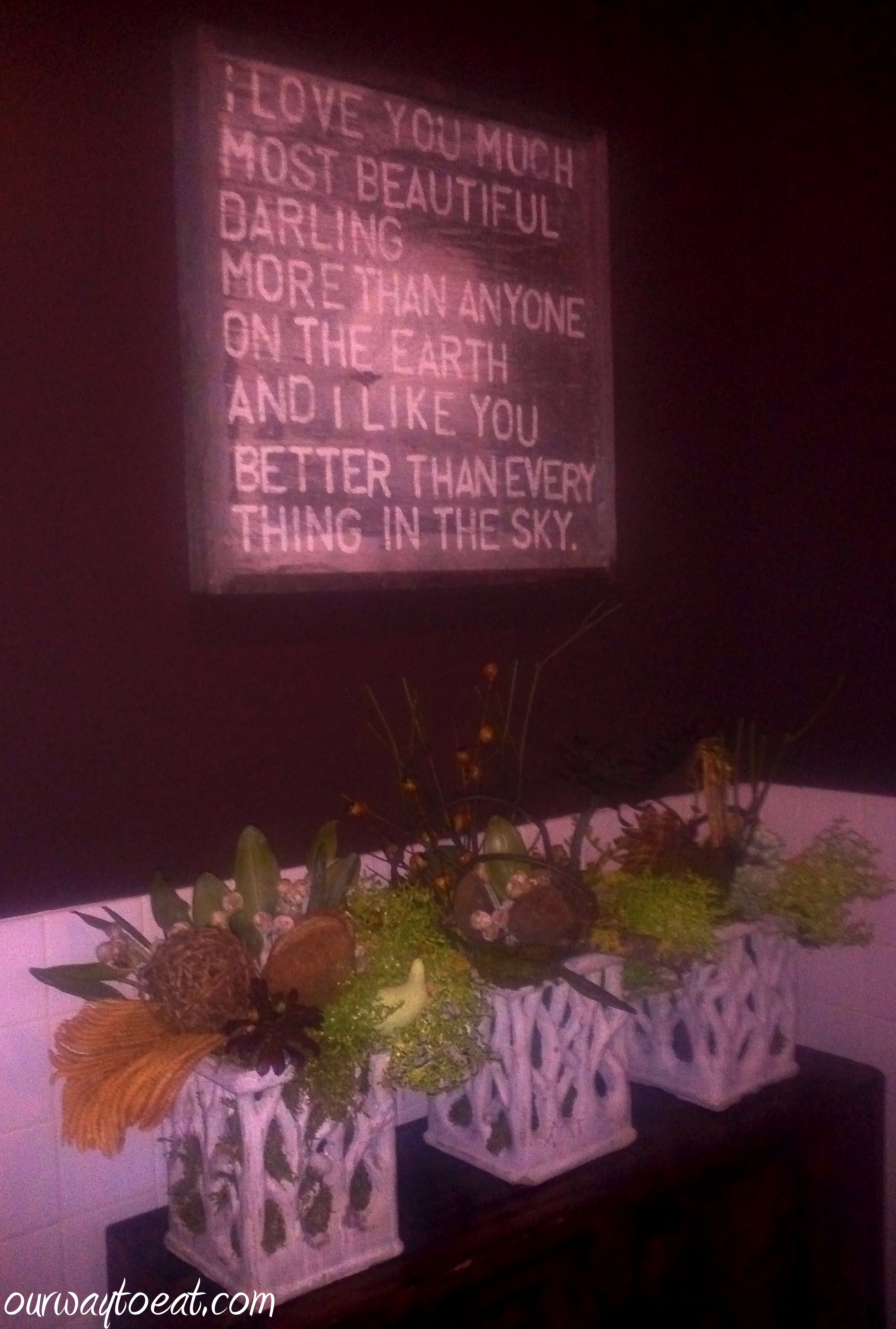 This isn't the first time a photograph from the inside of the woman's bathroom in a restaurant has appeared on this blog.  I couldn't resist snapping a shot of these permanent arrangements of faux and real moss, twigs, leaves and pinecones sitting below romantic sentiments stenciled on rough wood.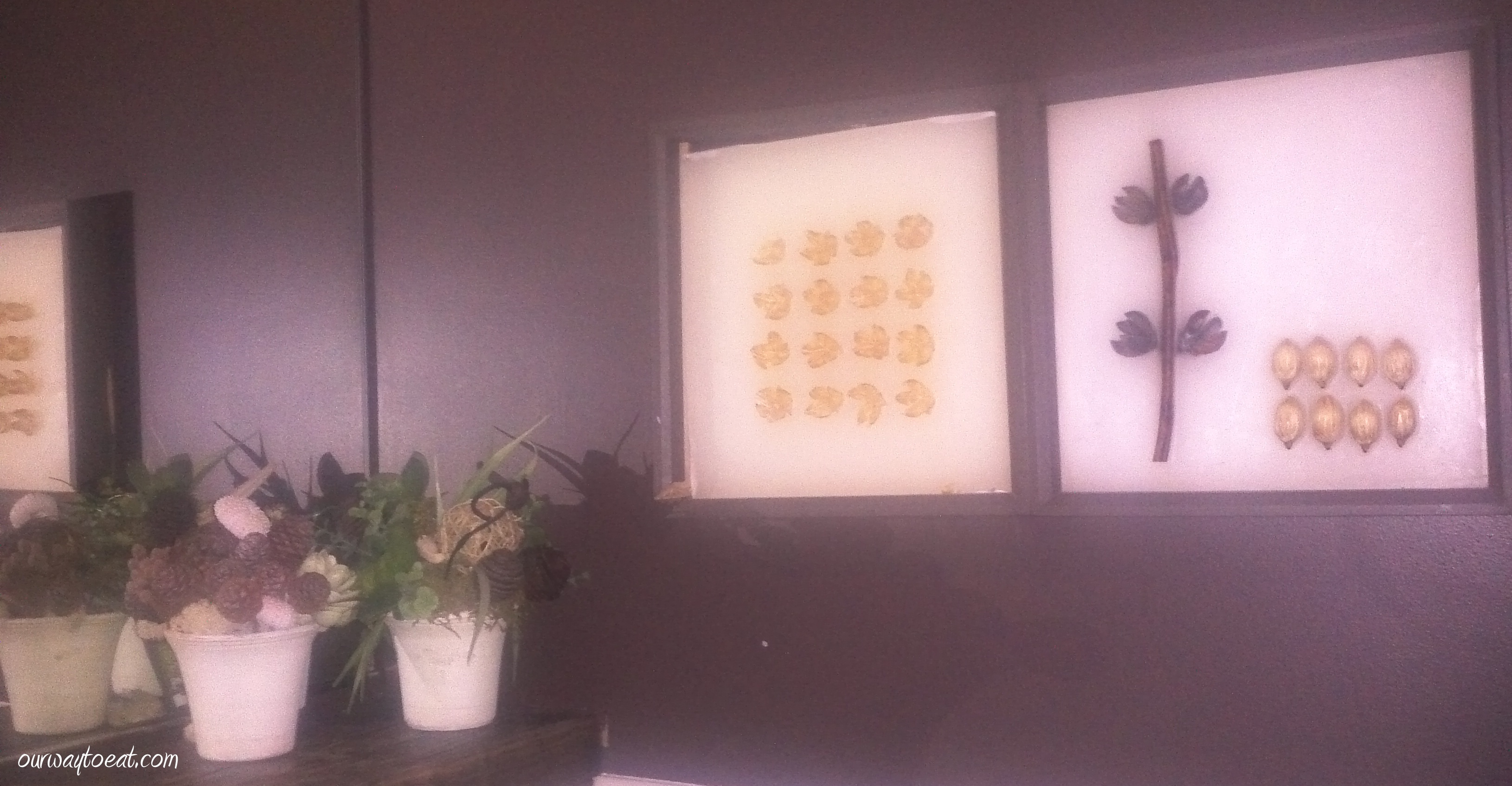 Nor could I resist documenting the pine cone and faux succulent plants in clay pots and framed seed collages that decorate the ladies' room.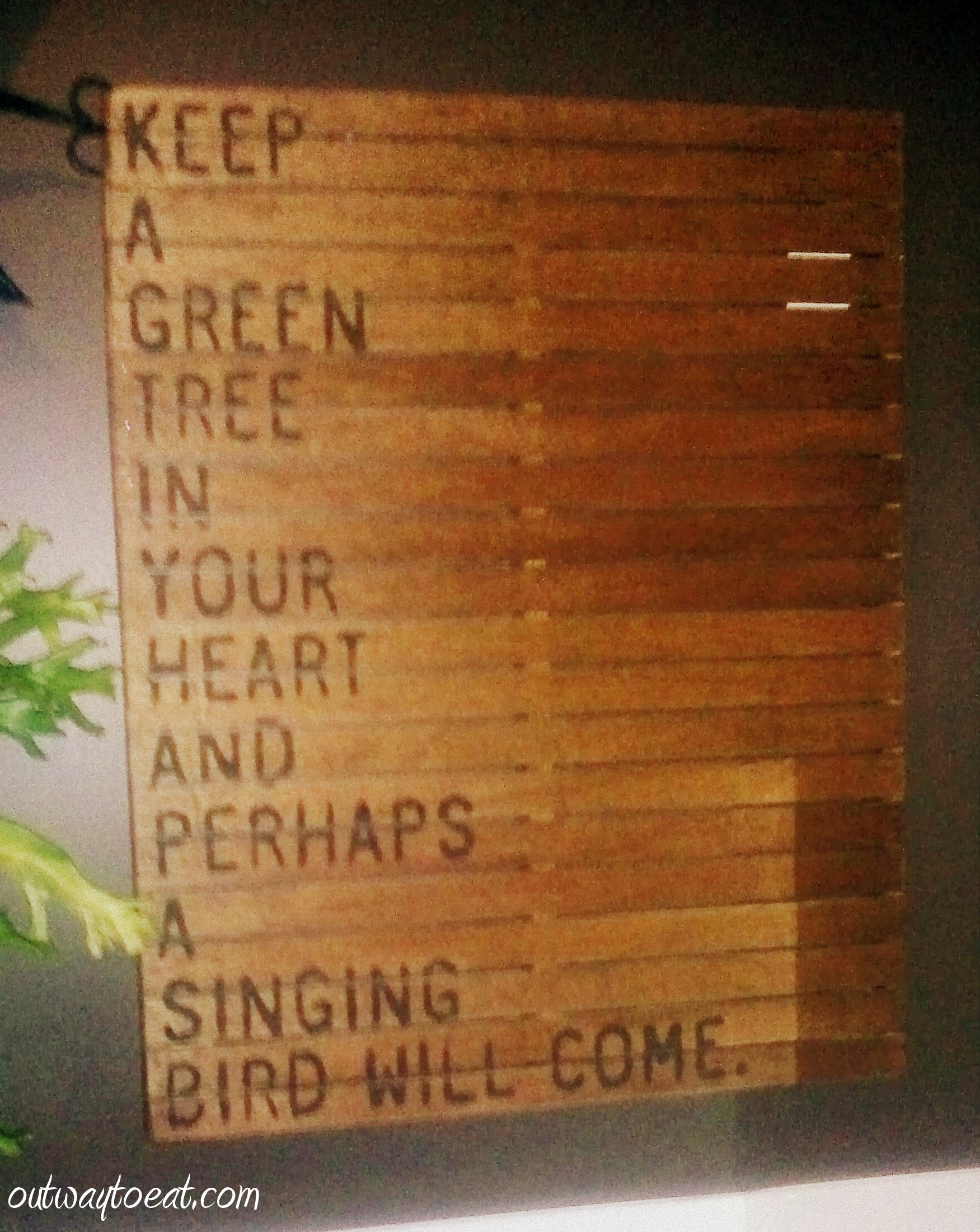 This is the first time a photo from the Men's room has appeared on our blog.  After seeing the ladies room, I had to see the men's.  I managed to convince Bjorn to head into the restroom with the camera on my phone to do some research.  Sure enough, it too contained cool, artistic decor.  We left feeling well fed and inspired, so inspired that we decided to bring my parents to try Wise Acre the very next weekend when they were in town for a visit and to attend the Minneapolis Home and Garden Show.
Last weekend, after a few hours at the home show, we again headed south on Nicollet toward Wise Acre.  I had the Cheddar and Fried Egg Sandwich on Brioche Bun with Dijon again!  I am a person who has their "go-to" selection in every restaurant.  Typically, as a vegetarian I am accustomed to having only a few choices on most menus.  It makes it easy to decide.  When I return to a place, I tend to have a certain meal in mind.  I know I should live a little, but this is how I like to eat.  Bjorn and my Mom tried the breakfast special, described as a German breakfast, a Wise Acre Bratwurst wrapped in a blanket of light puff pastry, served with a fried egg, sautéed cabbage and salad of apple, fennel, and hoophouse greens tossed in a Furthermore Knot Stock Black Pepper Ale and Mustard vinaigrette.  It looked great, and they both reported it to be good.
My Dad had the beef, bacon and brie burger with fries and slaw.  Still love that little jar for serving the slaw….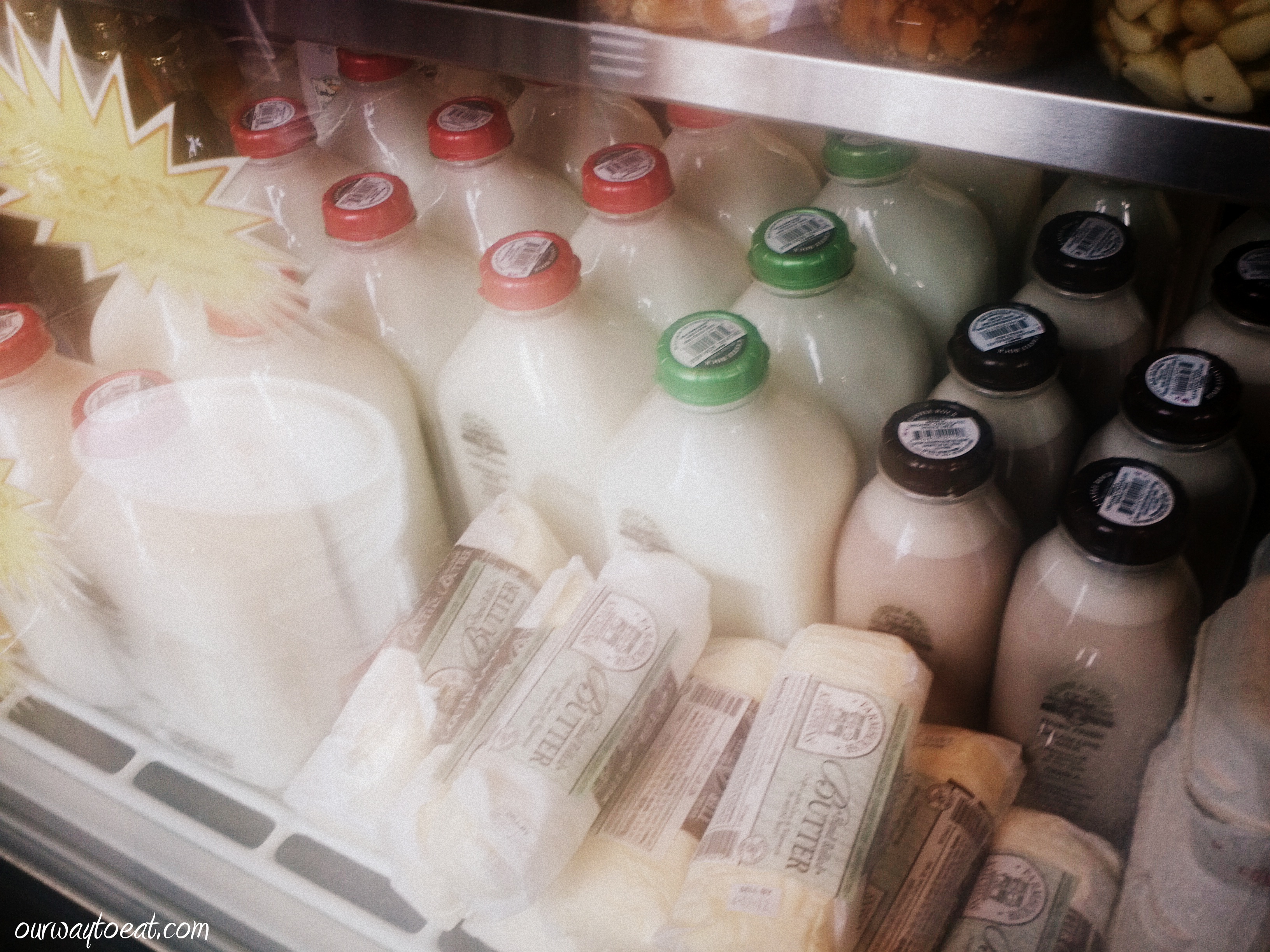 Butter, Milk Cream, eggs and house-made condiments are sold at Wise Acre.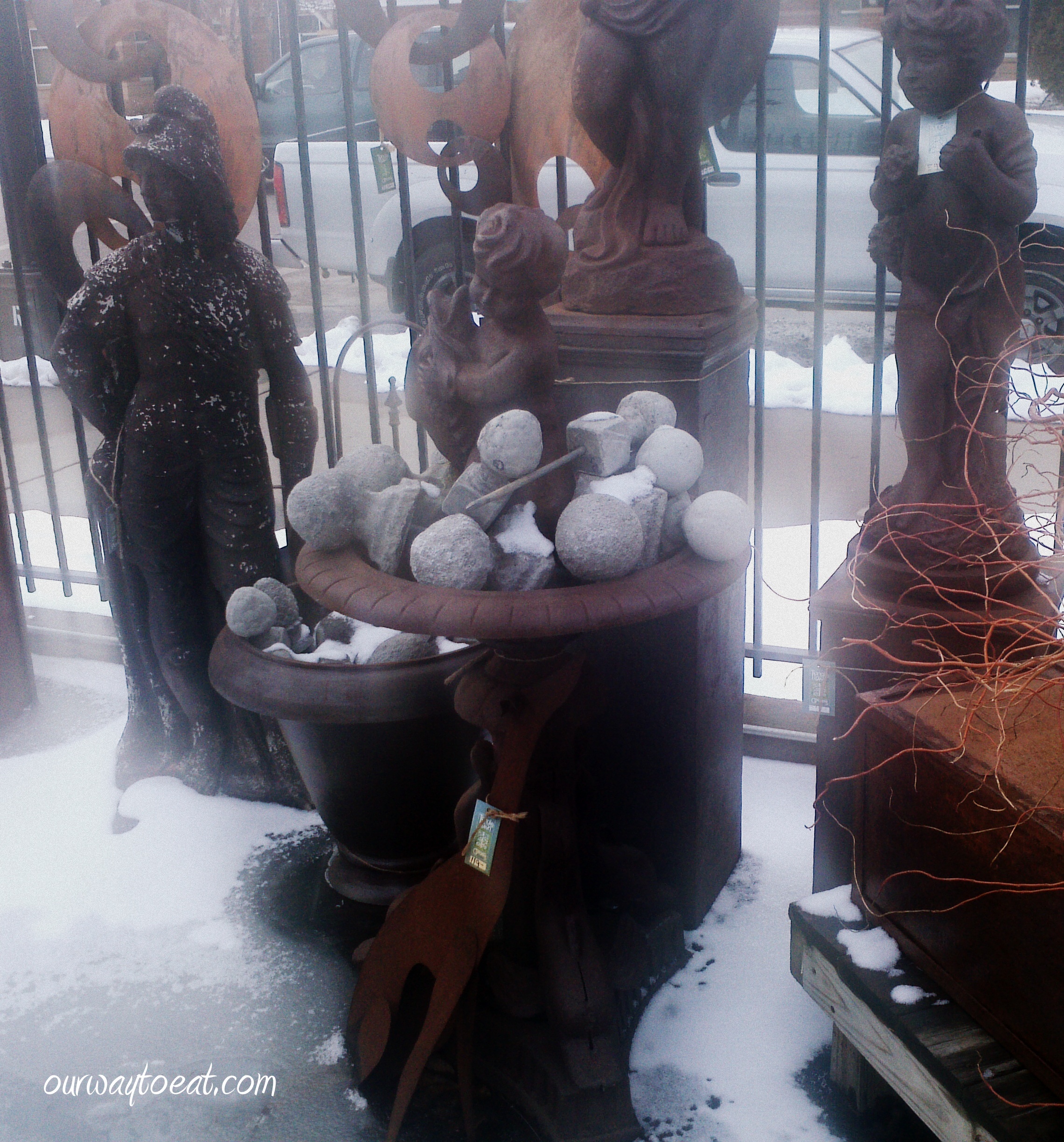 After lunch we wandered over to Tangletown Gardens to look around.  It is a great garden store, but most items were out of my price-range.  We picked up a dozen of the delicious Tangletown Gardens eggs with pretty green, blue and brown shells for $3.50.    
There is an abundance of inspiration at both Wise Acre, and Tangletown Gardens, and that comes free!  I like these nifty paper flowers cut out of newsprint.  What a great idea.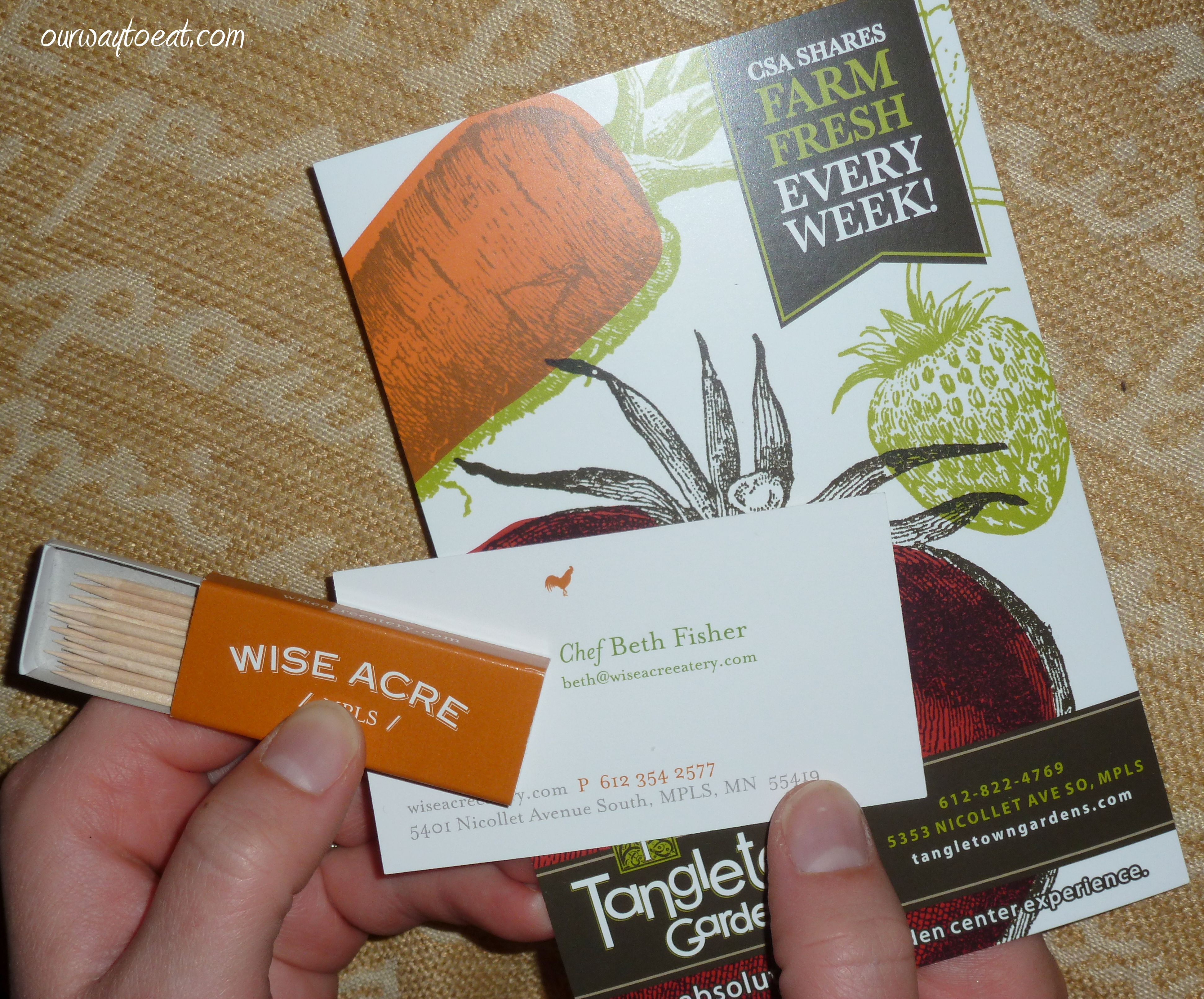 I always enjoy a little restaurant swag, and this little box of toothpicks from Wise Acre was a nice touch.  I recommend a trip to Wise Acre and Tangletown Gardens.  The farm-raised vegetables, meat, house-made condiments and baked goods are noticeably fresh, well prepared, and are of quality, local origin.  The cool decor adds so much interest to the overall dining experience at Wise Acre.  We didn't go back a third week in a row, but we surely will return.