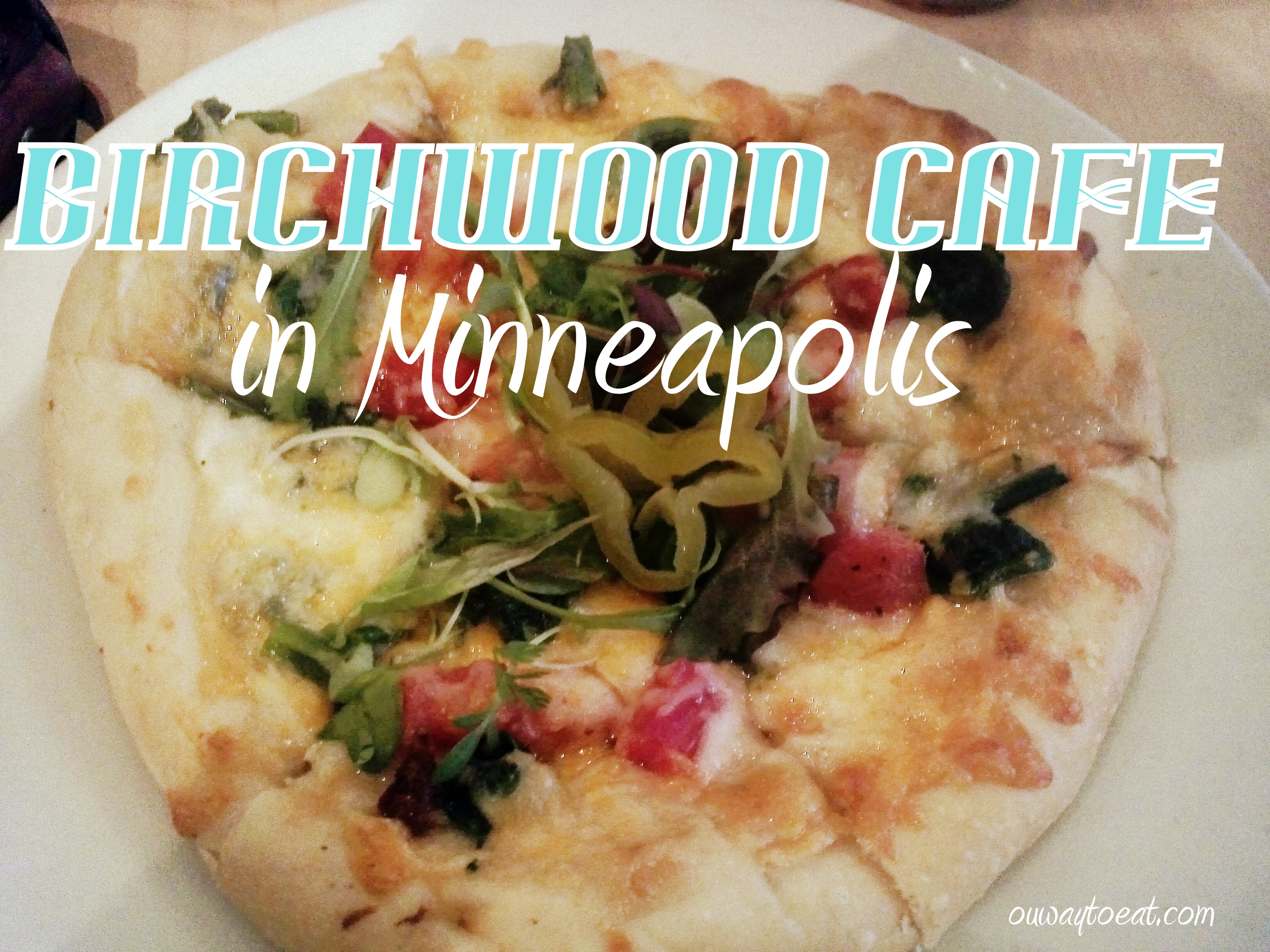 Birchwood Cafe – 3311 East 35th Street, Minneapolis, MN Telephone:  (612) 722-4474
I think a taste of one of our favorite neighbourhood restaurants will serve as a fitting end to this series of posts of our recent restaurant experiences.  I am reasonably certain that Birchwood Cafe is one of the most-mentioned local restaurants on this blog.  That is because we like it, we go there a lot and we find the food at the Birchwood to be reliably good and often inspiring.  The Birchwood is just the sort of restaurant we are so glad to have only a few minutes from home.
The Birchwood Cafe is nestled in the Seward neighborhood, a primarily residential area just across the Mississippi River from our neighbourhood in Saint Paul.  In addition to its quiet neighbourhood vibe, there are a few things that make the Birchwood a major draw for us.  They use and highlight local produce, they serve great local beer and they offer inventive, in-season food that suits a vegetarian-omnivore couple to a T.
The Birchwood's permanent decor is spare.  There are a few quotes that aptly convey Birchwood's philosophies permanently visible on the windows and wall.  Otherwise, the walls are plain white, and display works by local artists that are rotated periodically.  Currently on display are paintings by WACSO, an artist that I recognized immediately from a few posts that have appeared on Heavy Table, a wonderful Twin Cities blog about restaurants, food blogs and all things food-related in the Cities and around the region. 
WACSO stands for Walking Around Checking Stuff Out.  WACSO's art captures Twin Cities places and happenings and the people enjoying them in brilliant colour and just enough detail to accurately convey the motion, mood and feeling of the moment portrayed.  I hope I'll own a WACSO some day, or at least be one of the sketched figures in one.  I recommend checking WASCO art while it is on display at the Birchwood if you are in town.
We do quite like the Birchwood.  While the list of the Birchwood's merits is long, there are just a few characteristics about the Birchwood that aren't necessarily my favorite that I suppose I will mention.  The first is, you stand in line and place your order at the counter.  Maybe the Birchwood has chosen not to serve customers at the table due to space constraints.  I can see that.  I can also understand having customers come by the deli counter where there is a moderate selection of prepared salads, artisan-quality grocery items to take home and ready-to-eat items that they want you to see.  For me, I always order something from the menu, very often the nightly special, and so there isn't a lot to gain, and some relaxation is lost in the experience of standing in line to order, paying, getting my drink, not forgetting my table marker and finding a table and then settling down to enjoy being out to eat.  I will say that the servers who bring out your food almost make up for the lack of table service by being consistently efficient and friendly.  The other issue we've run into and learned from is that the place is popular and rather small so it gets pretty jam-packed.  This has all but eliminated us as breakfast and brunch diners on the weekend — we just aren't people who enjoy the madness of waiting for a table while others slurp their orange juice, Surly Coffee Bender and down their muesli and perfect scrambled eggs in order to clear out and give us a seat.  At the end of the day, I compare a good neighbourhood restaurant to a person you love who isn't perfect (meaning everyone) — you take the good with the bad, you accept idiosyncracies and unique attributes and overall you are always way more pleased to have them in your life than not.  Great people and restaurants don't have to be perfect to be exceptional and well above average.  
What in the world am I waiting for?  How about the great meal we had recently at Birchwood's weekly Saturday night Pizza Party!?  The deal is this:  2 pizzas and a pitcher of beer or a bottle wine for $30. These are artisan-made pizzas with fresh, local toppings and high-end local brews, so let me tell you, this is a great deal.  Above is Bjorn's delicious pizza, topped with house-smoked turkey breast, carmelized onion puree, mushrooms, cauliflower, kale, cheddar and provolone.  I thought it looked yummy, cheesy and full of plenty of interesting toppings.  Bjorn thought it tasted as good as it looked.  
My pizza was topped with spring vegetables: fiddleheads, asparagus, red beets, garlic spread, cheddar, provolone and a sprinkle of tangerine oil.  I loved this pizza.  Other than garlic, I have never tasted any of the ingredients on a pizza before.  Cheddar and provolone are two of my favorite cheeses, they aren't on pizzas very often, but they really worked.  It turns out that they all belong on a pizza and they all make me want to top our homemade pies a lot more irreverently.
The most noteworthy of the toppings on my pizza were the fiddleheads.  Fiddleheads, ramps, and morels are all the rage in the Twin Cities foodie-world and blog universe.  I have yet to try ramps.  I have eaten morels, and while I love going to check my secret spot for spoils, I don't honestly love them as much as other mundane mushrooms.  Fiddleheads?  Now that is a wild crop that I can get behind and seriously work at foraging to eat.  I'd describe a fiddlehead as a tiny curled end of a fern about to unfurl; roasted on a pizza it had the flavor of mild asparagus and texture more pleasant and tender than roasted asparagus or green bean.  One more reason to get going on transplanting some of my Mom's abundant ferns from her garden to ours!
As we walked away from the familiar Birchwood Cafe onto a quiet neighbourhood street, I thought of how glad I am to end this series about our recent restaurant experiences at one of our regular spots, that I confidently recommend and am glad to have close by.  The Birchwood Cafe does vegetarian and omnivore-friendly local food right, and we're so glad to have this place in town.  If you are one of our regular readers, thank you.  It will be a quiet few weeks while we voyage far and wide to see good friends and new horizons.  Come back in early June to see what we have to share!